Holiday Cruises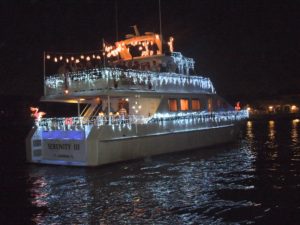 Looking for a great way to celebrate special times of the year like Valentine's Day, St Patrick's Day or even Halloween, try one of our theme cruises.
How to celebrate the Holiday Season like a SoFlo local.

Take a Holiday Lights Cruise and check out all the Christmas Lights on the water.
Join us for the Winterfest Boat Parade and catch all the decorated yachts.
Last but not least ring in the New Year cruising down the waterway.
Holiday Lights Cruise
Join us for a Christmas Holiday sleigh ride South Florida style. No we don't have snow (good thing) and no we don't have sleighs, but how about a holiday sightseeing tour of the most lavishly decorated homes, mansions, and yachts, while enjoying festive holiday music. The lights reflect off the water adding to the brilliant display.
Dates: November 25 - January 3rd
Time: 4:00 PM - 7:00 PM
Cost: Adults $50.00 Children $40.00
Includes: Includes dinner & soft drinks (alcohol BYOB)
Winterfest Boat Parade
The nighttime flotilla of brightly decorated yachts started in 1971 when a group of 20 enthusiastic revelers took to the Intracoastal Waterway in Fort Lauderdale, FL, with family and friends. The boat parade has now expanded to a televised event sometimes exceeding 100 vessels. The parade begins in the New River and ends at Lake Santa Barbara. The lights & holiday music reflecting off the water is spectacular.
Dates: December 15th, 2015
Time: 7:00 PM - 11:30 PM
Cost: Adults $85.00
Includes: Includes Holiday Dinner & soft drinks (alcohol BYOB)
New Year's Eve
As we cruise north, enjoy the Holiday Lights of the decorated homes along the Waterway. See Mega Yachts as we pass the Millionaire Mile. Finally we'll ring in the New Year in front of the Hillsboro Lighthouse which will make a great backdrop for New Years Eve photos! Horsd'oeuvres & desserts will be served throughout the evening, with champagne toast at midnight. Bring your dancing shoes for dancing under the stars on our upper deck.
Date: Monday 31st
Time: 10:00 PM - 1:10 AM
Cost: $85.00
Includes: Horsd'oeuvres, Desserts, Champagne Toast, Party Favors, Soft Drinks & Mixers
*Alcoholic Beverages are BYOB (Save money and bring your own)
Book Today